Joe Parrino
Technical Director – CBRE
President Emeritus
7×24 Exchange
Rocky Mountain Chapter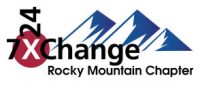 Farewell To My Friends & Colleagues
Many of you know I've served on the leadership committees of the 7×24 Exchange Local Chapters for the past 23 years. Wow…time sure flies!
I started serving with the Atlanta Chapter's Executive Committee beginning in 2000…back when I was just a young Data Center punk (I'm still a punk, but now just an old one!). I was privileged to work with and become friends with a bunch of top-tier people. All of this while I was learning how to manage Operations at the UPS Windward Data Center in Alpharetta.
After raising our family for 15 years in beautiful Georgia, in 2014 with the nest now empty, Beth and I decided to migrate back home to Denver. I hadn't yet established a professional network out here, so I began attending the 7×24 Rocky Mountain Chapter meetings. I asked to join the Board of Directors, and somehow I guess I passed my interview.
Lo and behold, the very next year I was asked to become president of the Chapter. So, for the past seven years, you've seen me give the opening comments at our Chapter Events, send out an occasional President's Letter, and kick-off the Golf Tournament.
During my tenure, we've had some amazing End-User focused programs. We've heard repeatedly that our Golf Tournament continues to be one of the best. Since 2016, we've given away $37,200 in Scholarships to 21 well-deserving STEM students. We successfully pivoted to virtual programs due to a once-in-a-lifetime pandemic. We launched a new website (big thanks to Susan T. who helped us!). Heck, I even tried to (perhaps unsuccessfully) do some stand-up comedy at one of our programs at The Comedy Works (the crowd was gracious to say the least).
ALL THANKS TO OUR SPONSORS, OUR MEMBERS, & OUR BOARD OF DIRECTORS
Lastly, a big thanks to our Board of Directors. I was privileged yet again, to volunteer with some top-tier people. Stay buckled-up. They have many good things cooking for you in the years ahead!!
Max Billington (RMH Group)
Joy Hughes (Gensler)
Mitch Dillard (InterMountain Electric)
Justin Peltzer (Stulz)
Rabin Mahanty (H5 Data Centers)
Scott Nahman (NOAA Boulder)
Ryan Wagner (Schneider Electric)
Tom Dobson (Holder Construction)
Rick Benge (Verizon)
Alberto Barrios-Marquez (RMH Group)
Thank you for making this a great experience for me. I hope it has been the same for you.
Warm Regards Always,