Joe Parrino
Technical Director – CBRE
President 7×24 Exchange
Rocky Mountain Chapter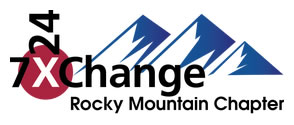 …a Program idea comes along that is so timely, it shouldn't be missed.  I've been involved with the 7×24 Rocky Mountain and Atlanta Chapters for the past 20+ years and this one strikes me as hugely important to our energy-dependent world.
Max Billington, Senior Electrical Engineer with the RMH Group in Lakewood (and, oh by the way Board Member and Executive Director of the 7×24 Exchange Rocky Mountain Chapter) has put together a program that meets the statement started in the title and finished in the first sentence of this letter.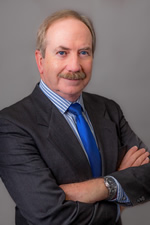 As a seasoned MEP Engineer, Max began seeing RMH's customers raising concerns brought on by the Regulatory Community that they need to be "carbon zero" by 2030…this is only eight short years from now.  These are commercial buildings and it creates many questions as to how this can be accomplished.  If their utility providers are under the same requirements, how can they be of any help?  Electrical Utilities have to burn fuel to generate electrical energy.  Renewables are still very choppy on the Power Grid, so stability is of great concern, especially when Renewables become a larger and larger portion of the energy mix.  Natural Gas, while it is a cleaner fuel, are still carbon-generators.
Max is also a long-time Data Center MEP Engineer, so he immediately began wondering about the future challenges facing our industry.  If Data Centers must eventually become carbon-neutral, and there is only so much "Green Energy" to purchase, how can this be accomplished?  What about Emergency Generators?  Will they come under strict regulations as well?  Is our industry going to see Batteries eventually supplanting internal combustion engines (Emergency Generators) like what is happening in the auto industry?  If the world is consuming nearly 100 million barrels of oil today, how can Renewables possibly displace this energy source so we can get to the 2050 goal of "net-zero" carbon emissions?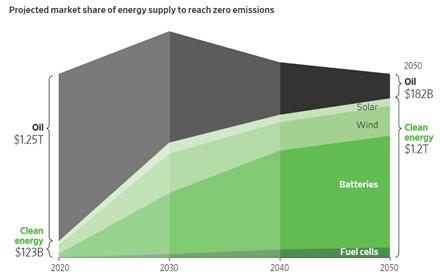 For existing and future Data Centers and Commercial Buildings, can Batteries really be a reliable backup to Renewables?  What will this do to the cost/Watt for Photo-Voltaics?    What's the all-in life-cycle cost for Mega-Battery installations, including Fire Suppression and other Codes not yet developed?  What is the footprint for the runtimes? What risks have we already seen?  What unforeseen problems exist?
And finally there are the Utility providers.  They have to burn fuel to generate the electricity that we all consume.  Again, with Renewable sources being "choppy" and intermittent on the grid, spinning reserves still must fill in these gaps.  If their Grids in a particular region are already strained, how do they expand their capacities?
Nuclear generation takes at least a decade and is hugely expensive.  Georgia Power's expansion of Plant Vogtle in Georgia has been under construction for more than 10 years and is still not online.  The $14B original price tag has blown up to $25B (source: Wikipedia).  Is carbon-neutral electricity generation in trouble?  Is Electrical Grid strain inevitable?
Hence the Mega-Scale Battery Program coming next Friday, October 22nd at 11:00 a.m. MDT.
Again, it shouldn't be missed.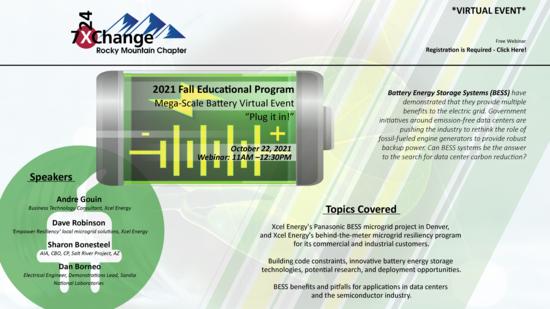 As always, a big thanks to our Programming Committee who make these great experiences possible…
– Joy Hughes (Gensler)
– Justin Peltzer (Stulz)
– Rabin Mahanty (H5 Data Centers)
– Scott Nahman (NOAA Boulder)
– Ryan Wagner (Schneider Electric)
– Rick Benge (Verizon)
– Alberto Barrios-Marquez (RMH Group)
– Jasen Boyington (UCAR Boulder)
And a big thanks to our Sponsors who make all this possible…y'all ROCK!!