Joe Parrino
Technical Director – CBRE
President 7×24 Exchange
Rocky Mountain Chapter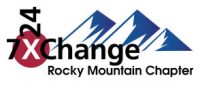 Kicking Off Another Year!…
All of us at your 7×24 Exchange Rocky Mountain Chapter hope this message finds you well and safe.  Personally, I also hope your holidays were enjoyable and you are feeling as refreshed and grateful as I am, despite this Covid-thing that just won't seem to go away.
In 2021, many of us thought it would die-off didn't we?  It seems as though the 1918 Spanish Influenza pandemic only had a couple of waves, then the thing kind of died-off quickly, never to be seen again (with the exception of the much less-severe variant of it, which is what we know to be the seasonal flu).
With Covid, what are we in now…???…the fourth wave with this Omicron Variant?  Ugh! 
I remain hopeful that Covid-19 will get from pandemic to endemic, where like the season flu, becomes manageable and doesn't stress the hospital systems.  However, the wreckage of Covid on so many lives is devastating.  By my unscientific count, 850,000 U.S. deaths has resulted in about 50,000,000 lives affected…that is each death has affected 50-60 others (loved-ones, friends, colleagues, etc.). 
Through all of this, we were able to enjoy another successful year in 2021 ….here are some highlights:
Two of our four events were in-person

Oh how we wanted to be in-person in October, but the Covid Delta Variant was in full force and we took the prudent-safe path with a virtual presentation on Mega-Battery Installations

Your Sponsorship support ROCKED again!

We were up 14.7% over 2020, and 26% over 2019

Your support does the following:

Funded our two in-person events…

June 10th: "Fire Incident in Data Centers" at the Denver Athletic Club
August 6th: Golf Tournament at Fox Hollow Golf Course in Lakewood 

We blew away previous year's records with 166 Golfers
Due to the $30k cost, we do ask for Sponsorship help with this event

We awarded two $2,000 Scholarships to our winners: Brett Shearer and Noah Ragsdale
Through H5 Data Center's multi-year support of STEM, we donated $4,000 to their "Summer STEM Party" in support of the Denver Public Schools STEM programs
For 2022, the Board of Directors has voted to…
Hold our Sponsorship levels at the same costs
Increase our Scholarship awards to $3,000 each for two Students

We'll add more Scholarship awards if our Sponsorships do as well as they did last year
We've also got some great Programming in the hopper, and yes, we're going to make prudent decisions but do everything we can to be in-person.  Covid be gone already!!
Our Early-Bird 10% discount for Sponsorships is active until January 31st.  THANKS as always for all your consistent, generous support all these years. 
As always, a big thanks to our Board of Directors who make these great experiences possible…
Max Billington (RMH Group)
Joy Hughes (Gensler)
Mitch Dillard (InterMountain Electric)
Justin Peltzer (Stulz)
Rabin Mahanty (H5 Data Centers)
Scott Nahman (NOAA Boulder)
Ryan Wagner (Schneider Electric)
Tom Dobson (Holder Construction)
Rick Benge (Verizon)
Alberto Barrios-Marquez (RMH Group)
Y'all just KEEP ON ROCKIN'!!
Warm Regards,