MAY 2020

Joe Parrino
Global Alliance Director – CBRE President 7×24 Exchange Rocky Mountain Chapter
STRANGE DAYS…
---
Greetings 7×24 RMC Members. We hope you and your loved ones are keeping well. Our hope is that you haven't suffered loss in any way…loved ones, job or pay reductions, anything. As I mentioned in my last letter, we are fortunate to be in a resilient industry that seems to be holding its own during these strange days. Did you catch our first virtual meeting on May 8
th
? It was a success beyond our imagination. During my opening remarks I mentioned how much of a "buzz-kill" I was when we first began discussing it. Man was I wrong! Luckily, your Board of Directors are MUCH SMARTER than me and they pushed hard for it. We had 150 Registered to attend, of which there were 50 End-Users. Take a look at these stats…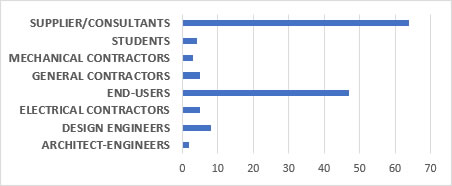 May 8th Program: COVID-19 Impacts on Critical Operations
This was unprecedented. Y'all are obviously not "Zoomed-out" quite yet! During our V-Program, we gave away two $1,500 Scholarships to a couple of very talented and hard-working students…(your future employees mind you).
Deniz Besiktepe-Karaman

School: Colorado State University Major: Ph.D. in Civil Engineering and Construction Engineering and Management

Rathana Preap

School: Colorado School of Mines Major: Mechanical Engineering with an Aerospace Emphasis
BIG CONGRATULATIONS to them both, and we look forward to seeing more of them at future events!!

(and yep…I'm gonna use that picture of Stulz Sales Engineer and 7×24 Board Member Justin Peltzer whenever I can…that dude is the EPITOME of cool)
WHO'S IN FOR GOLF?
Fox Hollow is open for business with some modified Covid-19 rules…i.e. single carts unless it's the same household, the Clubhouse is closed (at least currently). Those of us who want to, can also walk (GO AHEAD…be my guest and walk the Canyons…you'll be POOPED!). We'll have to see if walking will work with a scramble though. Also, Fox Hollow will likely serve boxed lunches afterwards instead of the nice buffet under the gazebo…man doesn't this covid-thing suck??!! YES THERE WILL BE A HAPPY GILMORE LONG-DRIVE COMPETITION AGAIN (dishonorable mentions Mike Watkins RMH Group and Jay Hagen DP Guardian – with their epic "misses" – inaugurated our 7×24 Exchange Rocky Mountain Chapter You Tube Channel – they are FOREVER memorialized – thanks boys!! In the next few days, we're going to send out a survey to test the waters to see how many golfers are interested, and how many Fox Hollow can accommodate. Stay tuned! As always, Sponsors help pay for it…so please keep us in mind. Finally, we may also go back to a virtual program in the Fall just to be safe. So many unknowns we've had on this journey. What a strange trip it's been…and still is. Be safe and keep well y'all.

p.s. 'Boomers know this album cover without searching it…I bet most X'ers, Y'ers and Millennials have nary a clue 🙂