Joe Parrino
T5 Data Centers
President 7×24 Exchange,
Rocky Mountain Chapter

ARE YOU ON THE TRAIN YET?

---
That is…the 7×24 Exchange Rocky Mountain Chapter Train that is rolling through the Front Range!
We've completed another SUCCESSFUL season of programming in 2018…here are some stats:
March:
Failure Analysis and the Root Causes of Downtime

Peter Panfil, VP Global Power, Vertiv
Springhill Suites on the Auraria Campus

May:
Climate Change And The Future of Data Centers

David Gallaher, Senior Associate Scientist, Manager Technical Services
Tour of NOAA's Earth System Laboratory and Data Center in Boulder

August:
Golf Tournament
September:
NCAR/Wyoming Supercomputing Center: Initial Construction and Lessons Learned

Gary New, Operations Manager, National Center for Atmospheric Research
Tour of the NCAR Supercomputing Data Center in Cheyenne
We've INCREASED the NUMBER OF PASSENGERS ON THE TRAIN…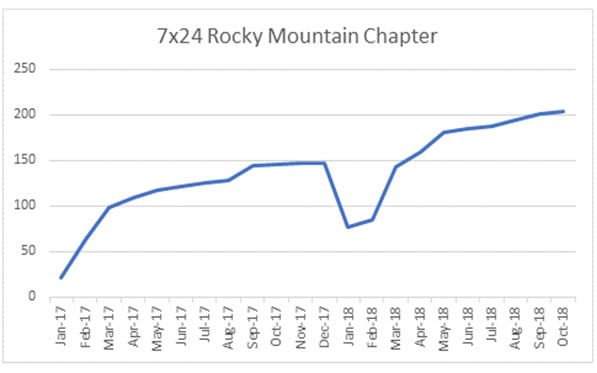 Our Sponsors have STEPPED UP, because you know, THEY ARE ON BOARD THE TRAIN!!
| | |
| --- | --- |
| – 2017 Sponsorships: | 22 |
| – 2018 Sponsorships: | 31 (29% increase) |
| – 2018 New Sponsors: | 14 |
We've made STUDENT ATTENDANCE and AWARENESS of our industry a priority…
– 2017 Scholarships Awarded:
2
– 2018 Scholarships Awarded:
5
– Relationships formed with Metro State University, Colorado School of Mines, University of Colorado at Boulder, Emily Griffith Technical College
Word is getting out beyond the Rocky Mountain Chapter. On October 19th, 7×24 Board Member Jim Bearce and I were on KRDO Radio in Colorado Springs discussing your 7×24 Chapter happenings. At the 7×24 Exchange International Conference in Phoenix the week of October 22nd, they were extremely excited about us "furthering the mission" (as they put it).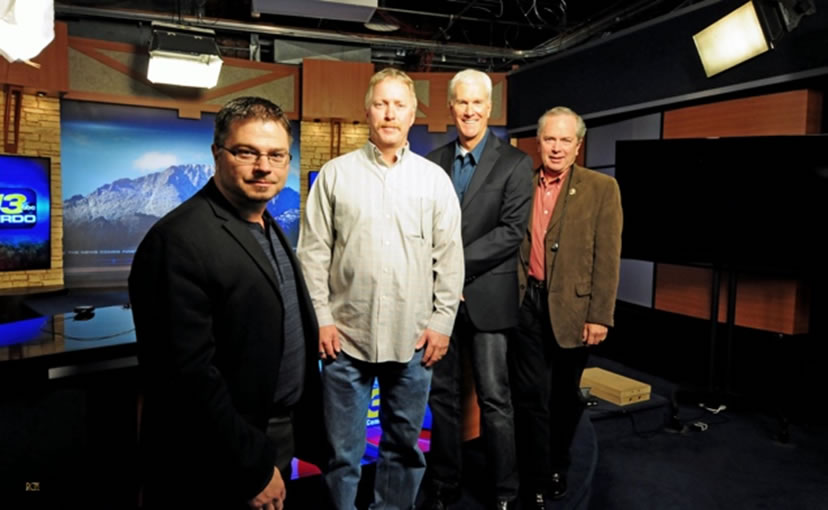 Jim & Joe (center) at the KRDO Studio with Jeff Beauprez (right)
Here are the stats from our Broadcast/Podcast (which includes hits on the web sites, streaming & live):
Total calculated followers of the October 19, 2018 episode: 44,250
46% of listeners were in Colorado, 34% were in the U.S. outside of Colorado, and 8% were International.
If you want to hear the Podcast, here's the link: https://businessweekinreview.podbean.com/
We have an elaborate Vision, Mission and Strategy that can be found on our website, but it all boils down to a few simple things…
Programming…we are committed to bringing you relevant topics that are not sales pitches, topics that are attractive to our target audience: our Data Center End Users
Participant Experience…we strive to create a friendly atmosphere, good food and good locations, where our End Users can hopefully glean a few takeaways to apply to their own operations, as well as get connected with our local Vendors and Contractors
Once again, THANK YOU to our Sponsors for BOARDING THE TRAIN! Without you, none of this happens. The venues, the food, the Golf Tournament, the Scholarships. THANK YOU for your support.
Finally, this letter will now include a highlight of one of our Titanium Sponsors. Our first feature is from one of this Chapter's founding Sponsors, the RMH Group. RMH's Chief Electrical Engineer Max Billington P.E. has served on the Board since 2009. Max is also an Adjunct Professor at the Colorado School of Mines.
As always, we wish to thank our Titanium Sponsors for their generous support of the Rocky Mountain Chapter of the 7x24Exchange.
Here is a list of our Titanium Sponsors for 2018:
Alcorn Construction
Howell Construction
Iron Mountain
The RMH Group
Sturgeon Electric
T5 Data Centers
Please extend a warm thank you to all our Titanium Sponsors for their valuable support. We also express our gratitude to the many companies who generously support our Chapter at other levels of Sponsorship. We will feature information about each Titanium Sponsor in our Newsletters.
We sent an informational survey to our Titanium Sponsors with questions pertinent to the mission of our Chapter. Today's Newsletter features The RMH Group, Inc. of Lakewood, Colorado and their responses to our survey.
Warmest Regards,

---
Survey Questions:
Please Describe Your Organization and services you provide (500 words or less):The RMH Group is a Lakewood, Colorado-based mechanical and electrical engineering firm founded in 1960. With our current staff of 75 personnel, RMH is one of the largest mechanical/electrical engineering firms in the region, which enables us to take on exciting larger and more complex projects while delivering the hands-on, personalized service of a smaller firm. Our core disciplines of HVAC, plumbing, and electrical power are complemented by specialties in lighting design, building controls, and central utilities. We focus on challenging mission critical, science & technology, higher education, healthcare and industrial projects.
How long has your organization been a member or sponsor of the 7×24 Exchange Chapter?RMH has had the privilege of involvement with the Rocky Mountain Chapter since its inception. RMH staff members along with other industry professionals, were instrumental in the founding of the Chapter in 2001. RMH actively supports the education of individuals who are responsible for maintaining mission-critical infrastructures and are interested in improving End-to-End reliability by exchanging knowledge with those who design, build, use and maintain facilities with high levels of uptime.
Please provide a testimonial or a case study of success for your organizationNCAR-Wyoming Supercomputing Center
University Corporation for Atmospheric Research
Cheyenne, Wyoming

To assist researchers with critical tasks such as visualizing our planet's future climate and calculating the paths of hurricanes, the National Center for Atmospheric Research (NCAR) and the University Corporation for Atmospheric Research (UCAR) needed to install some of the world's most powerful supercomputers at an NCAR site. Having outgrown computing resources at NCAR's Mesa Laboratory in Boulder, Colorado, a decision was made to build the new NCAR-Wyoming Supercomputer Center (NWSC) in Cheyenne. The resulting $70-million, 153,000 SF facility can accommodate supercomputing systems with power densities up to 1,000 watts/square foot. Even with that much power consumption, the LEED-Gold-certified NWSC is on track to be one of the top 1% most efficient data centers worldwide with a projected Power Usage Effectiveness (PUE) ratio of just 1.08. This means that more than 90% of the energy for the entire complex is being used for computing.

The design team applied a flexible, modular approach to enable the NWSC to house multiple generations of supercomputer-class systems. At initial buildout, the facility includes two side-by-side 12,000 SF raised-floor modules to support installation of the first round of supercomputing equipment modules. The facility also houses a data storage facility, a visitor center, administrative space, and a utility plant.

To help achieve this impressive level of efficiency, RMH engineers harnessed the cool, dry climate of Cheyenne by using evaporative cooling towers to efficiently deliver sufficient cooling capacity directly to NCAR's liquid-cooled supercomputing equipment for 96% of the year. A 150 foot by 8 foot ultra-low-energy fan wall delivers cooling to air-cooled computing equipment on the data center floor. Waste heat from the supercomputer is captured and reused to heat administrative areas of the building and to melt snow and ice on exterior walkways and loading docks. A chilled-beam system—a method for delivering heating and cooling to a space with very little wasted energy—provides efficient, effective cooling in the administrative areas. A host of ultra-efficient water-conserving technologies facilitate savings of up to six million gallons of water per year.

Why do you feel it is important to be a part of the 7×24 Exchange Rocky Mountain Chapter?Our membership to the 7×24 Exchange Rocky Mountain Chapter is critical to staying up-to-date on industry trends, networking with other professionals in the field, and furthering the professional development of our great staff.