Joe Parrino
Technical Director – CBRE
President 7×24 Exchange
Rocky Mountain Chapter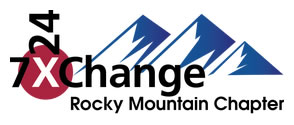 …to capture the scale of last week's Golf Tournament.
I brought this up on Wednesday August 4th (two days prior to the tournament) during a "packing party" at the Holder Construction offices (the packing party is those of us on the Programming Committee stuffing all the SWAG into the Lunch Coolers we gave out, then jamming it all into Natalie Huffman's very nice Rubicon Jeep afterwards…with some scrunching it just about all fit!).
True to this 7×24 RMC team's nature, Joy Hughes (Gensler) and Rabin Mahanty (H5 Data Centers) were on their phones trying to find a drone, along with a trained operator to keep it from crashing into us.  Joy located one and made arrangements for that Friday morning.  However when we called Fox Hollow, the golf course is on Army Corps of Engineers land and they don't allow them.  Maybe we'll try for a variance next year.  My son, Ben Parrino, always looking for those loopholes in the rules, said "just have 'em fly it in from off-property".  Hah hah…he hasn't changed a bit!
The reason we needed the drone is that we blew away all previous events…in past years we'd host a robust 110-120 participants.
This year we filled up so quickly that we decided to open up the third course…The Links…so that we could  accommodate 170 golfers.  Wow!!  We also had our two Scholarship winners signed up (although one didn't make it).  We were delight to have End-Users from 16 different companies.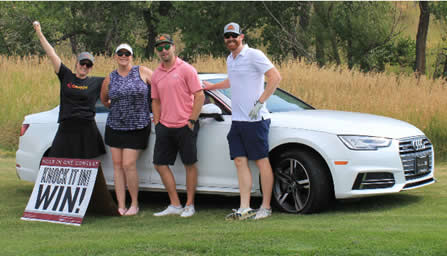 One of the comments we heard is that the play was faster because certain holes didn't get as backed-up.  An excellent unanticipated outcome.  Of course, if there's anything we can do better, please email us.
We also think due to everyone getting done earlier, we got better participation for the included lunch and the Awards Ceremony afterwards…GREAT!!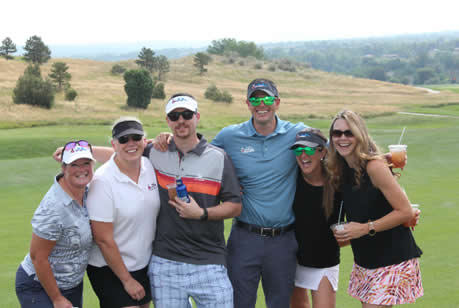 As I mentioned in my opening comments, we always strive to provide everyone with the best possible experiences at our events.  We also strive to have Program content that attracts our targeted audience, our End-Users.  Our goal is to always create a comfortable experience in which they can be introduced to our great Vendors, Engineers, General Contractors and Consultants.  This is what it's all about, making our Rocky Mountain Data Center community more connected.
We have one remaining Program this year…tentative date is October 22nd.  We are looking at Mega-Storage Battery Systems, in which a Data Center could forego purchase of Generators and ride-thru long-term Utility outages on Batteries.  We are looking at speakers from Sandia Laboratories and others.  We want this to be in-person, so given the time of year, we may look at an outside tent…plenty of ventilation for that darn Covid-thing that keeps lingering around…and shielded from the weather.  Possible location is at H5 Data Centers in Centennial.  Stay tuned!
It goes without saying that we owe the continued success and growth and great experiences to our Vendors, Consultants, General Contractors and Engineering companies that continue to support us.  Here's who stepped-up for our 2021 Golf Tournament…again…A HUGE THANKS TO YOU!!
A few shout-outs if I may…
DVL…y'all have really stepped-up in supporting 7×24 the past 2-3 years…thank you Robert Leake!
RMH Group…a stalwart of year-after-year support, not only in Sponsorships but participation on our Board of Directors…Max Billington is one of our longest (if not THE longest) serving Board Member
DP Guardian…they brought two Audis to the course this year…Jay Hagen I hear there was a shot that was INCHES from and ace…OUUUUUCH!!
Lisa Reiswig United Rentals…she took 72 short videos of the "Happy Gilnots" on our Happy Gilmore hole, giving us plenty of content for our 7x24RMC YouTube Channel
Masters Sponsors (Interactive Hole)
 
 
DVL Group
$ 2,500.00
 
PGA Sponsors
 
 
Power Systems West
$ 1,250.00
 
 
 
Langan
$ 1,250.00
 
 
 
Howell Construction
$ 1,250.00
 
 
 
JFH Distributing, Inc.
$ 1,250.00
 
Interactive Hole Sponsors
 
 
Global Roofing Group
$ 600.00
 
 
 
Adolfson & Peterson Construction
$ 600.00
 
 
 
DVL Group (included)
–
 
 
 
DP Guardian
$ 600.00
 
 
 
Total Network Support
$ 600.00
 
 
 
United Rentals
$ 600.00
 
General Hole Sponsor
 
 
Stulz
$ 300.00
 
 
 
Edmonds Energy
$ 300.00
 
Breakfast Sponsor
 
 
United Rentals
$ 1,750.00
 
Beverage Sponsor
 
 
H5
$ 2,000.00
 
Luncheon Sponsor
 
 
RMH Group
$ 1,750.00
 
And of course, our Programming Committee who made this great experience possible…
Joy Hughes (Gensler)…she chairs the Committee herding all of us cats
Natalie Huffman (Holder Construction)…new Board Member and she was a huge help!!
Justin Peltzer (Stulz)…his third Golf Tournament and he keeps making it better!
Rabin Mahanty (H5 Data Centers)…he won it again this year (next year he'll play with child's clubs!!)
Scott Nahman (NOAA Boulder)…he ordered up the perfect weather for us
Ryan Wagner (Schneider Electric)…the new website worked great!
Rick Benge (Verizon)…a.k.a. "Sasquatch" with his gorilla mask
Alberto Barrios-Marquez (RMH Group)
Jasen Boyington (UCAR Boulder)